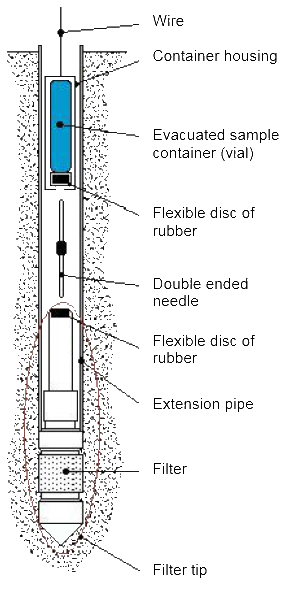 GeoN Groundwater Sampler
The sampler carries an evacuated and hermetically closed sample container of glass, a vial. The vial has a cap with a rubber disc, similar to the disc in the filter tip. The needle of the sampler is "double-ended", it has two sharp ends.
When the sampler connects to the filter tip, one end of the needle penetrates the disc in the tip, the other end penetrates the disc in the vial cap.
Due to the vacuum in the vial, water will be sucked from the aquifer, through the filter and the needle, into the vial. The sampler is pulled up; the vial is taken out and is sent to the laboratory for water/gas analyses. No sample handling in the field is necessary. In fact, the vial should not be opened until it gets to the laboratory.
The GeoN Groundwater sampler is available for 35, 130, 150 and 500 ml samples.
Features of GeoN Groundwater sampler:
No sample handling in the field
The risk for cross contamination between wells is eliminated
Extremely low risk for oxidation of the sample due to evacuation of the vial
Dissolved gas will be sampled and can be analysed separately
The sample origins from the soil layer that surrounds the filter and is totally representative for that level
Extremely small purging volume, less than 40 ml
Uncomplicated function, easy to handle

GeoNordic – Manufacturer and distributor of GeoN Groundwater Technology and VJK AC Indicators
Goran.Andersson@Geonordic.se
Phone: +46 (0)70 592 75 33